The keto diet is very popular when it comes to losing weight as quickly as possible. But this diet contains mostly animal products, especially meat and fish. So now we are asking, is the keto diet for vegetarians?

In a ketogenic diet, you primarily take in proteins and fats, and avoid carbohydrates. By reducing the intake of carbohydrates, the body gets the energy from fat (ketosis) after a certain time. Therefore, it is advisable to include especially meat and fish in the keto diet. However, this seems to become a problem for people who follow a vegetarian diet. Or is it? This post is going to be your guide to a ketogenic diet for vegetarians.
Is a Vegetarian Diet Possible With the Keto Diet?
This is probably the question that many people who prefer a vegetarian lifestyle but still want to lose a few pounds through the keto diet are asking themselves. As already mentioned, 70 percent of this diet consists of fats, which are supplied by vegetable foods such as nuts or avocados, but mostly by animal products such as meat, fish, or milk.
But the ketogenic diet can also be practiced in vegetarian form. However, before starting the keto diet vegetarian edition, you should consider some things and inform yourself sufficiently.
Meat, in particular, contains the vital iron that our body needs for the formation of hemoglobin and for oxygen transport. In general, the iron level should always be kept in mind in vegetarian diets, and therefore also in this form of keto diet, as otherwise a deficiency may occur. In this case it is worth talking to a doctor and having the amount of iron in the body checked before and during the diet to see whether additional supplements are necessary.
When preparing fruit and vegetables containing vitamin C, you should be careful not to heat the food for too long, as the vitamin is not heat-resistant. It is also best to use fresh fruit and vegetables (or in frozen form).
It should also be mentioned that the body's conversion to ketosis (energy is gained from fat) can cause various side effects such as muscle cramps, insomnia, fatigue, mood swings or nausea. This is usually referred to as the Keto-Flu.
Who Is the Vegetarian Keto Diet For and Not For?
In principle, this form of nutrition is suitable for all healthy people who want to lose excess pounds and prefer a vegetarian lifestyle. Nevertheless, this form of nutrition restricts the choice of food and does not allow for spontaneous food appointments. Therefore, you should be aware of the extent to which this type of diet can be integrated into your daily routine.
Another important aspect is the nutritional requirements. By avoiding both carbohydrates and meat, iron and calcium are only absorbed in small amounts. For people who tend to have a low level of these nutrients anyway, the vegetarian keto diet is therefore not recommended.
Even pregnant and breastfeeding women should not practice this form of nutrition under any circumstances, as the fetus and infants are dependent on these nutrients. This is the only way to ensure the healthy development of the organs. Therefore, children should also not practice this diet.
For people who do heavy physical work, the vegetarian version of the keto diet is also not advisable. Athletes, diabetes type 1 patients, as well as people with eating disorders, should also avoid such a diet.
Which Foods Can Be Eat With the Vegetarian Keto Diet?
Since carbohydrates are avoided within the keto diet, the vegetarian variant consists mainly of vegetables that have a low starch content (carbohydrates). The same applies to fruit: only varieties with a small amount of fructose may be consumed. The main nutrient fat should be taken in primarily via unsaturated, i.e. healthy, fatty acids.
Even as a keto-vegetarian, your goal is to consume plenty of fat, moderate protein and a small amount of carbohydrates, just from vegetable sources. That means:
Replace animal proteins with vegetable proteins (such as green leafy vegetables, lupin-based meat substitutes, almond milk and products made from it, etc.)
Reduce carbohydrate intake to a maximum of 50g per day (use low-carb fruits and vegetables)
Include quality food supplements in your diet (to prevent possible deficiency symptoms – a list of useful supplements can be found below in this article
Here is a vegetarian keto diet food list:
Dairy products with high fat content such as milk, cheese or yoghurt
Nuts such as almonds, walnuts, Brazil nuts, cashew nuts
Vegetables with low carbohydrate content such as broccoli, zucchini, peppers, spinach, mushrooms, cauliflower, tomatoes, kale, lettuce, cucumbers, radishes, celery, eggplant
Low-carbohydrate fruit such as lemons, limes and all berries such as raspberries and blueberries
Pecans, peanuts, almonds, or hazelnuts
Linseed, chia seeds, pumpkin seeds, sunflower seeds
Fats and oils from avocado, olives, coconut, MCT oil, hemp oil
Avocados, lemons, blackberries, cranberries, raspberries
Eggs, tofu, spirulina
Herbs like basil, thyme, oregano
Remember, foods with a low carbohydrate content such as zucchini or broccoli as well as foods with a high proportion of valuable fats such as walnuts are permitted.
Foods to Avoid
In principle, carbohydrate-rich foods such as potatoes or legumes are not allowed in the keto diet. You should also not consume food with a high sugar content (other carbohydrate forms). These ingredients are found mainly in processed and ready-to-eat products. The following foods should be avoided:
Meat
Fish
Carbohydrate-rich foods such as potatoes, legumes (beans, lentils), rice, noodles, bread, buckwheat, quinoa, semolina, oats
Fruits with a high fruit sugar content such as pineapples, apples, bananas, peaches, apricots, mangoes, cherries, oranges, among others
Highly processed products with high fat and carbohydrate content in combination such as chips, burgers (fast food)
Sugary drinks such as soft drinks, fruit juices
Sweetening foods such as white and brown sugar, honey, agave syrup, maple syrup, sugar beet syrup
Alcoholic beverages such as wine, beer, sweet cocktails
Processed products with high sugar content such as ketchup, barbecue sauce
Basically, foods with a high sugar and carbohydrate content such as highly processed products but also potatoes, noodles and animal products such as fish, meat, and sausage products are not allowed.
Vegetarian Keto Diet Plan
This plan includes breakfast, lunch, and dinner for 7 days. It doesn't matter when you eat it. Just plan it in the way that best fits into your daily routine.
You can use the nutrition plan as inspiration. Especially for working people with little time, it is advisable to choose 1-2 breakfast variations. These can be prepared for several days and consumed quickly in the morning. You can also take a remaining portion from dinner the next day to work and enjoy it again. If you adjust the plan to suit your preferences and your everyday life, you should make sure that you do not exceed 30-50 grams of carbohydrates in one day.
So, below is your 7-day keto diet vegetarians meal plan. Enjoy!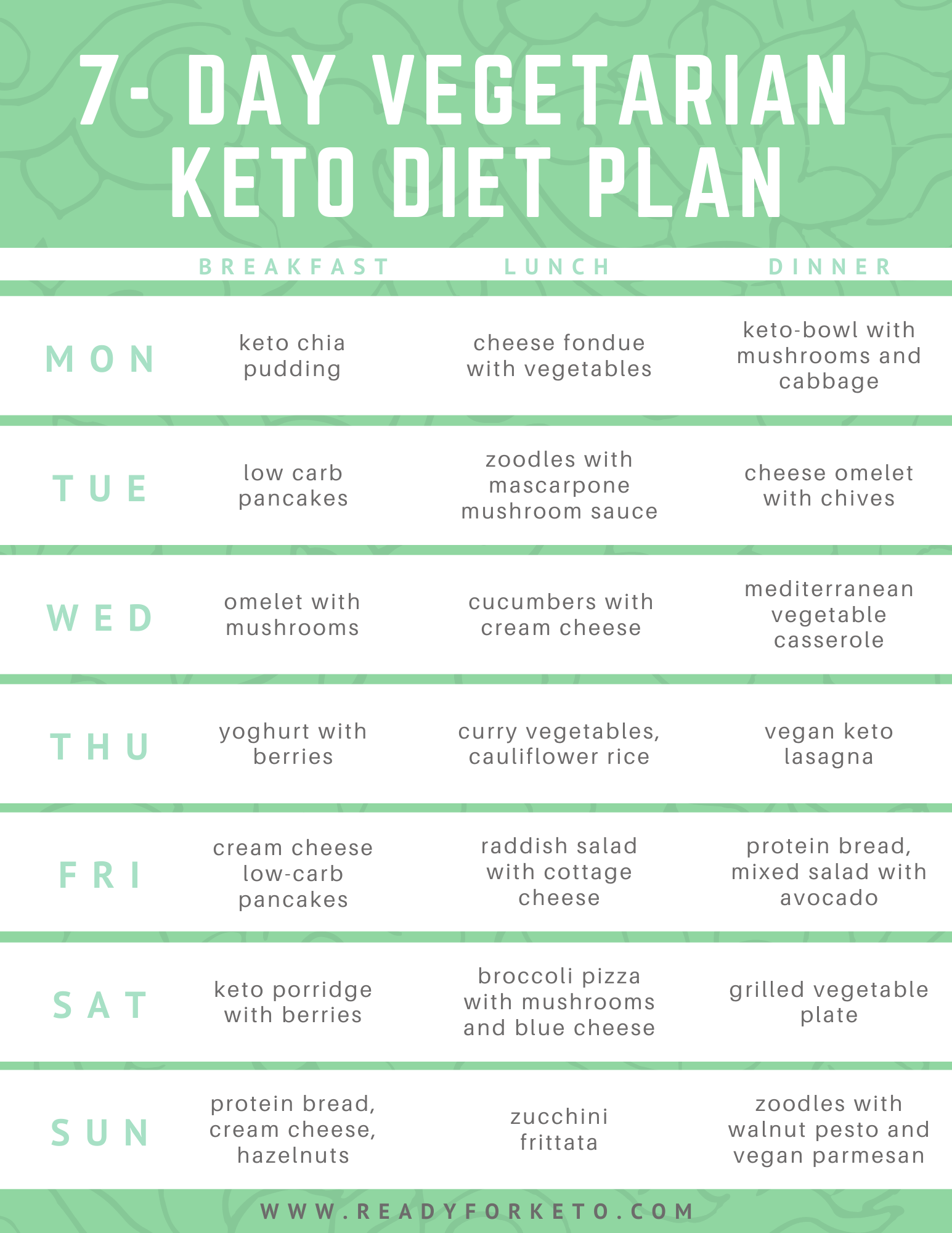 Here are a few snack ideas as well:
Cucumber or celery sticks with vegan cream cheese
Coconut fat bombs (with coconut cream, coconut oil and coconut shavings)
Nuts, coconut flakes and some cocoa nibs
Roasted pumpkin seeds or sunflower seeds
Guacamole with vegetable sticks and olives
And a few nutritional supplements for vegetarians:
Vegetable protein powders (lupine protein, hemp protein, almond protein, pea protein etc.)
Vegan/Vegetarian omega-3 fatty acids (for example algae oil)
Vitamin B12 (for example from nori algae or nutritional yeast)
Vitamin B complex
Vegan/Vegetarian vitamin D3
Iron (with vitamin C, for easier absorption)
Zinc
Calcium
Conclusion
The dietary plan of the ketogenic diet consists mainly of animal products such as meat or fish but a vegetarian variant is also possible.
It should be noted that an iron deficiency can occur if an adequate supply of nutrients is not provided. Your diet should consist of mainly food containing fatty dairy products such as full-fat cheese or yoghurt, nuts, and low-carbohydrate vegetables such as broccoli or zucchini.
If you follow a vegetarian keto diet, you may experience side effects such as muscle cramps or mood swings due to the conversion to ketosis (the body draws energy from fat instead of carbohydrates).
Thanks for reading!
Anna
www.readyforketo.com