A small effort snack with 0 carbs – Parmesan chips are the perfect keto snack!
Reaching into the chip bag is too tempting: The combination of carbs and fat makes it very difficult to stop before the pack is empty. A great alternative are these Parmesan chips. Just cut Parmesan, spice with paprika and herbs, and bake it in the oven – done! Check out the recipe below!
The cheese is a very good source of calcium, which strengthens our bones and teeth, and supports fat burning.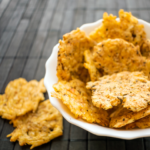 Print Recipe
Parmesan Chips
KCAL: 140CARBOHYDRATES: 0gPROTEIN: 13gFAT: 10g
Ingredients
150

g

Parmesan cheese

(30% fat, dry, in one piece)

1/2

tsp

Dried rosemary

1/4

tsp

Dried oregano

1

pinch

Paprika powder
Instructions
Grate the Parmesan finely and mix with rosemary, oregano and paprika powder.

Put the cheese in small blobs with some distance on a baking tray covered with baking paper.

Bake the cheese mounds in a preheated oven at 350°C (180 °C) for 8-10 minutes until the mounds have melted and turned a golden yellow color.

Remove the baking tray from the oven and let the Parmesan chips cool down.
Enjoy!
Anna
www.readyforketo.com