Today's recipe is a 2 portion low carb zucchini frittata with only 7g of carbs per portion!
If you want more or less, it scales up and down accordingly. If you want to make a vegetarian variation, simply swap the Parmesan cheese and whipped cream for vegetarian/vegan versions!
Zucchinis are the perfect low-carb vegetables, as they are mainly water-based, yet contain important minerals such as potassium and magnesium. The eggs used score points for their high protein and vitamin A content. They also have a high saturation index.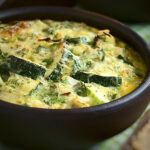 Print Recipe
Low-Carb Zucchini Frittata
kCAL: 366gCARBOHYDRATES: 7gPROTEIN: 23gFAT: 27g
Ingredients
400

g

small zucchini

(2 small zucchini)

1

garlic clove

2

branches of thyme

1

tablespoon

olive oil

salt

pepper

4

eggs

4

tablespoons

whipped cream

40

g

Parmesan
Instructions
Clean, wash, and cut the zucchini into small pieces or slices.

Peel garlic and chop finely.

Wash thyme, shake dry, pluck leaves from twigs and chop finely.

Mix with zucchini and garlic.

Heat oil in a pan and fry everything in it for 4-5 minutes, salt and pepper. Preheat the oven to about 390°F (200°C).

Whisk eggs with cream, season with salt and pepper, add to the zucchini and let it simmer at low heat for 8-10 minutes.

Meanwhile, grate the Parmesan and preheat the oven to about 390°F (200°C).

Flip the frittata to an oven dish (about 20cm in diameter), sprinkle with Parmesan, and bake covered for 3-5 minutes.

Let cool some and enjoy!
Thanks for reading,
Anna
www.readyforketo.com