Breakfast lasagna – keto recipe. A satisfying hot dish that can be eaten as a breakfast and main meal. The following recipe is for 12 portions. It does freeze if you want to save some for later.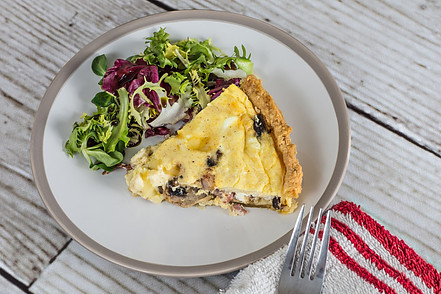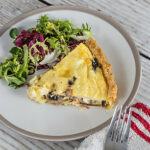 Print Recipe
Keto Breakfast Lasagna
KCAL: 393CARBOHYDRATES: 2gPROTEIN: 26gFAT: 31g
Ingredients
900

g

eggs

(about 18 eggs)

40

g

butter

400

g

coarse bratwurst

400

g

cream cheese

350

ml

beef broth

100

g

cooked ham

100

g

bacon

125

g

grated Parmesan cheese

125

g

mozzarella

1

tsp

salt

1/2

tsp

pepper
Instructions
Preheat the oven to 160°.

Grease a large pan well and let it get hot on the stove.

Whisk all the eggs in a large bowl and pour half into the pan. Now let them fry like an omelette. After about 4 minutes reduce the heat. Season with salt and pepper. Turning is not necessary. Remove and do the same with the remaining egg mass. Put aside for the time being.

Cut the skin off the bratwurst and put it into a pan. Fry for about 5-6 minutes until crumbly. Then stir in the cream cheese and add the broth. Let the sauce simmer for 2 minutes while stirring vigorously until it thickens. Season to taste with salt and pepper.

Now grease a casserole dish and add the first layer of the egg mass. Spread the bratwurst sauce on top and cover with the cooked ham.

Add in the second layer of egg and again spread a portion of the sauce on top.

Cover with the ham, bacon and sliced mozzarella.

Pour the rest of the sauce on top and sprinkle with the Parmesan cheese.

Bake in the oven for 30 min at 320°F (160°C).

When the casserole has cooled down, it is easy to cut.
Notes
Individual portions can be frozen.
Hope you enjoy this Keto-Friendly Breakfast Lasagna!
Thanks,
Anna
www.readyforketo.com