Review: 28 Day Keto Challenge
4.5 
Thinking about trying the 28 Day Keto Challenge from Keto Resource?
Today's post covers what you need to know before you buy the 28 Day Keto Challenge.
What is the 28 Day Keto Challenge?
The 28-Day Keto Challenge is a digital download from Keto Resource which contains a 28-day Keto diet meal plan, recipes, expert guides, and more for only $37!
One of the biggest mistakes people make when dieting is being unprepared. Without a plan, it is super easy to eat too much or too less and makes it very difficult to follow macros.
The fact that you're here, reading a review about a product that helps you begin your Keto diet journey, I would assume you already know a bit about the Keto diet, such as that it is a very low carb diet with more benefits than weight loss. However, if you are not so familiar with the keto diet, this is not something to jump into uninformed. The keto diet is not for everyone. Check out these articles for more information about the Keto diet and to see if the Keto diet could be for you before jumping right in: The Keto Diet for Beginners & Is a Keto Diet Healthy?
Keto Resource's Challenge is, at first glance, really not a bad deal. I mean, you get a 28-day keto meal plan with a 60 day money back guarantee, no questions asked. You could basically run through the challenge a couple of times and still return it if you aren't happy. But is it worth it?
The Challenge is usually $79 but for a limited time, it is only $37!
So, what's included with the 28-Day Keto Challenge?…
Overview
The 28 Day Keto Challenge includes:
28 Day Meal Plan
10 Expert Guides
Keto Virtual Assistant
all in PDF format downloadable to your PC!
The Expert Guides are:
Keto Diet – The Basics
Eating on Keto – Meal Plan & Tips for Curbing Cravings
Ketosis – Tips for Staying in Ketosis
Macros – A Micro Look at MacroNutrients
Keto & Friends – Dealing with Social Pressures
Keto Flu – Beating it in a Healthy Way
Intermittent Fasting – Tips for Success
Supplements Guide
Keto Friendly Avocado Recipes
Chocolate Fat Bombs & Desserts
and a bonus Keto Desserts guide!
What about this Keto Virtual Assistant?
It is like a calculator to help you determine your weekly targets.
The tool covers Maintenance and Mental Performance as well as  Weight Loss and Transformations.
You basically input your height, weight, waist size, age, shoulder circumference, and how much daily exercise you do and you get back a suggested amount of daily caloric, protein, carb, and fat intake.
This challenge supports you on your keto journey. For example, you receive emails to help keep you on track!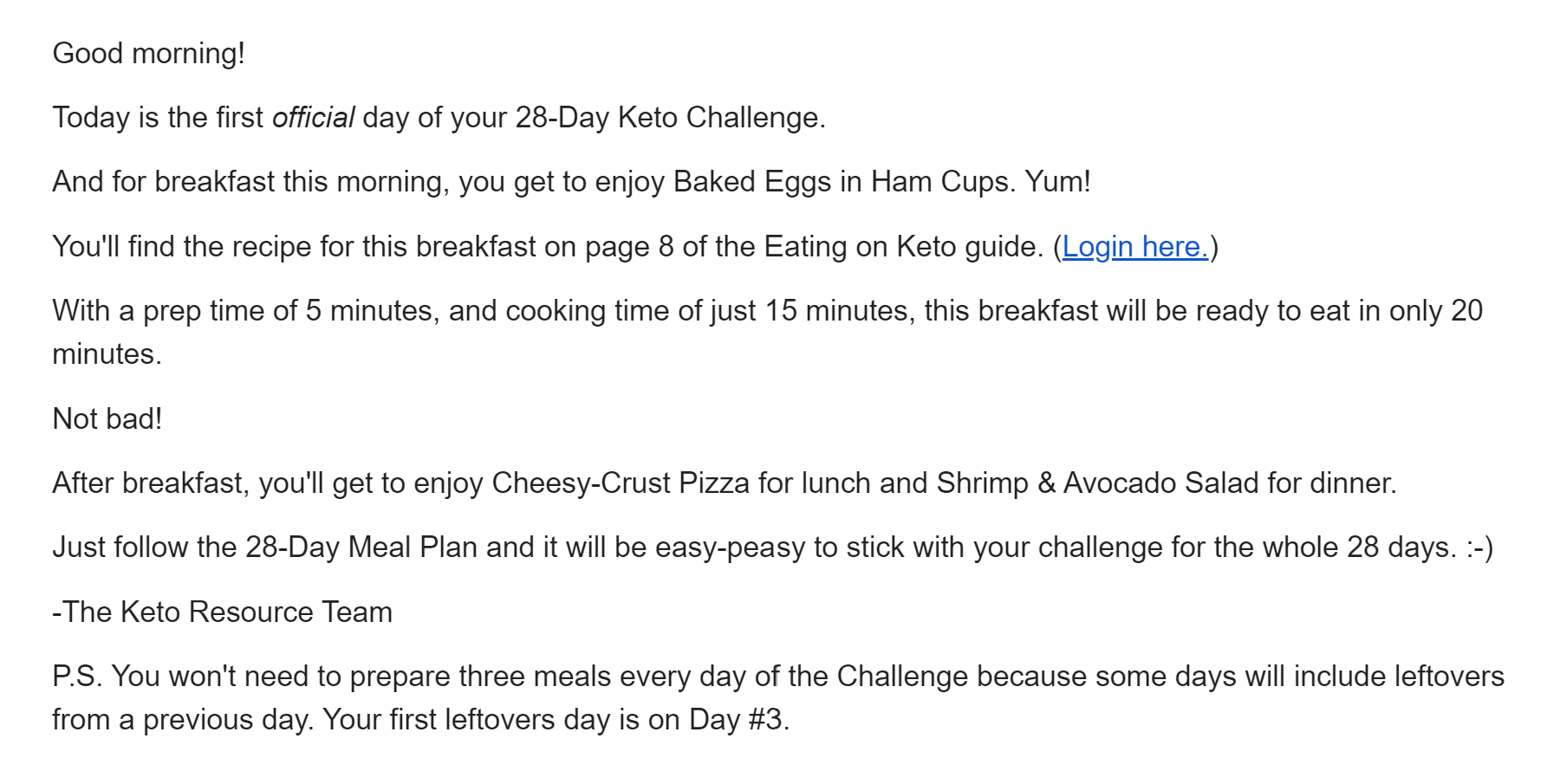 Pros and Cons
Let's talk about the advantages and disadvantages of the 28 Day Keto Challenge product.
The first awesome thing about the challenge is the amount of information! But this is also a bit of a disadvantage as it is time-consuming to go through everything. I mean, the guide "Keto Diet – The Basics" is already 23 pages! But it's probably more time-consuming researching this stuff yourself. 😉 It's also really easy to follow information, laid out nicely with lots of infographics, lists, and tables. There are even some worksheets to do that help track your goals and progress.
I also like that it is a digital product, meaning it is available immediately for download. There is a nice dashboard to access the different products.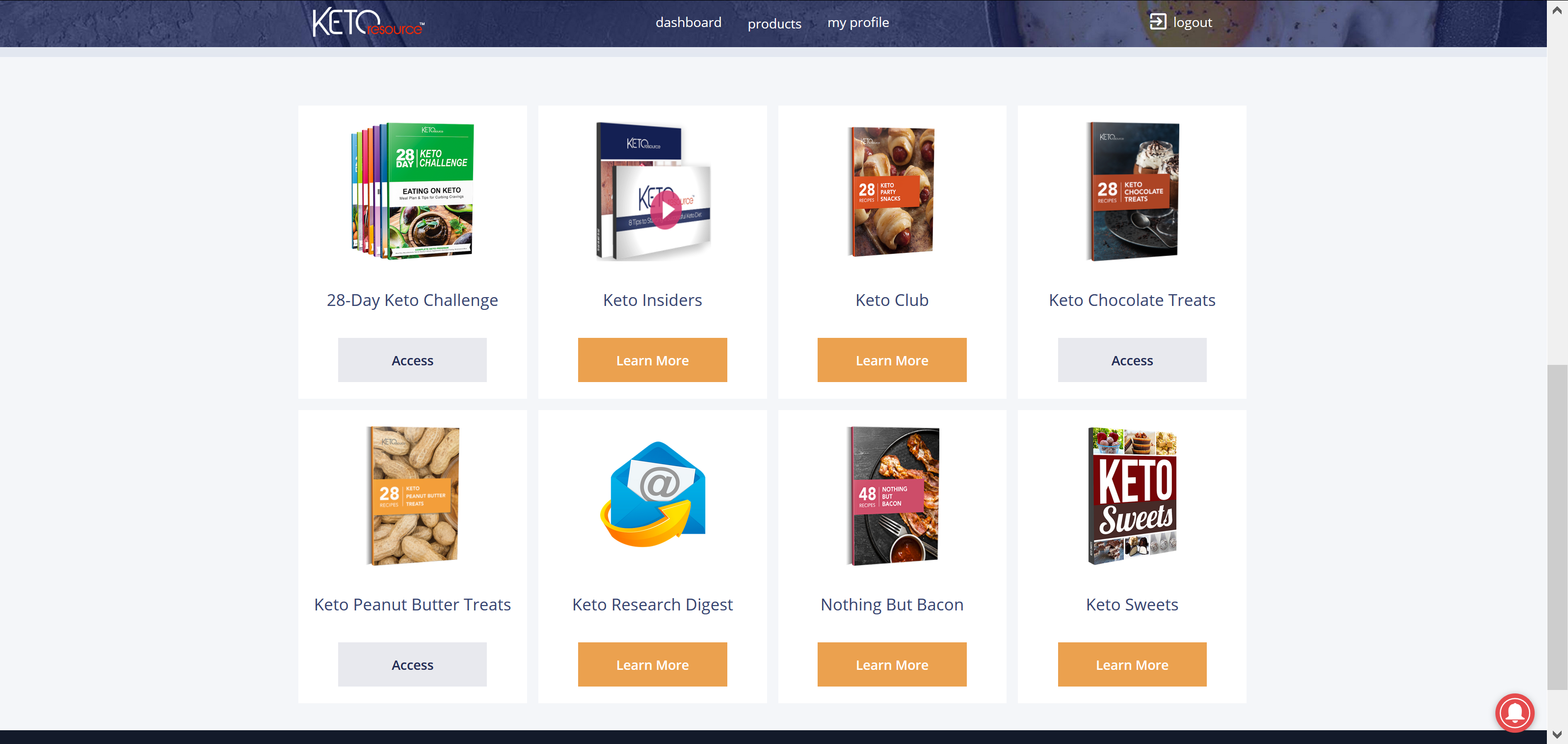 However, I know that some people prefer a hard copy. So if you're one of those people, this could be a disadvantage because you may have to print your own if you really want it or settle with a digital version. I like having a few of the pages printed, such as the shopping lists, but I'll save trees with the rest! 🙂
For a limited time it is $37, which is not a bad price for this bundle. I think the original price of $79 would be a bit high, but for a limited time at least, I find that the amount of information you get here is worth the $37. And if you're not satisfied, there is a 60-day money-back guarantee. You can try the challenge twice and still get a refund if your dissatisfied!
The challenge has recipes to everything on the meal plan as well. It is a pretty nice guide for the keto diet.
| Pros | Cons |
| --- | --- |
| A lot of information | Time-consuming; because it is a lot of information |
| Digital; available immediately | If you want a hard copy, you'd need to print it yourself |
| Affordable | |
| No questions asked 60 days money back guarantee | |
| Easy to follow | |
| Meal plans AND Recipes | |
| | |
Conclusion
The 28 Day Keto Challenge by Keto Resource is the ultimate guide to finding success with the Keto diet. It comes with shopping lists, recipes, plans, tips, etc. Everything you need to start the keto diet! I mean they basically guide you through the first 28-days step-by-step! And this can be done over and over and switched up and added to! The keto diet has so many benefits and results can be seen quick if done right! But this isn't a quick fix, results don't happen just by reading some guide–it takes your willpower and actually following through with a keto diet!
Do you want to reap the benefits of the keto diet? Think you are up for the challenge?
Take The 28 Day Keto Challenge!
Review: 28 Day Keto Challenge
Summary
The 28 Day Keto Challenge is a really nice guide and support system to start the keto diet. Of course there is a lot of information so it will take some time to go through it all before you can begin, but the information is already put together for you with shopping lists, checklists, tips, recipes, etc. The keto diet brings many benefits and this plan challenge can help you achieve those benefits! It's a support system for the first 28-days of your keto journey. If you're starting the keto diet and not sure where to begin, the 28 Day Keto Challenge is your comprehensive guide!
Thanks for reading,
Anna
www.readyforketo.com