In today's blog post, we will take a look at what foods to eat on the keto diet.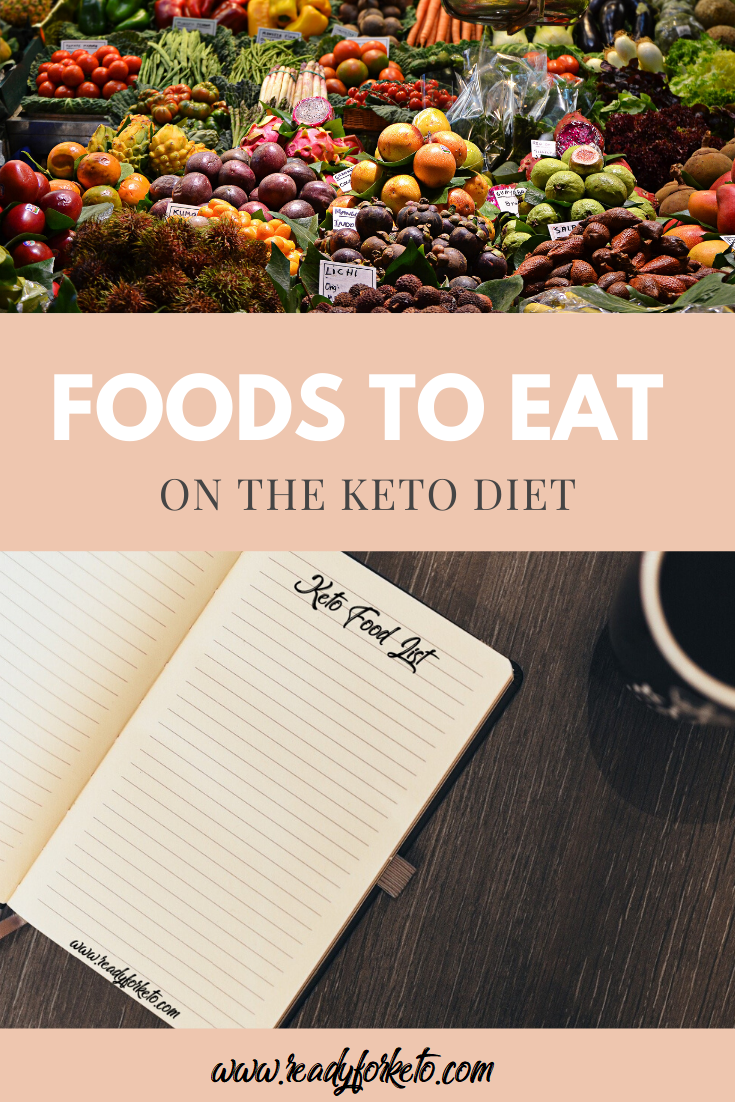 Ketogenic – What to eat?
A ketogenic diet (for omnivores) mainly consists of:
meat
fish
full fat dairy products
eggs
nuts and seeds
low carb vegetables
select fruit (citrus, berries)
You should avoid carbohydrate-rich foods such as cereal products, potatoes, legumes, sugar, some fruits, and ready-to-serve meals.
Now, let's get into some more info about determining which foods are keto-friendly foods and which should be avoided.
Keto in Numbers: How Much of What to Eat?
Carbohydrates: <5%
Proteins: 20-30%

Fat: 70-80%

So, how many carbs you should eat per day on a keto diet?
Less than 50g of carbs per day.
Below are graphs comparing the Keto Diet to the Acceptable Macronutrient Distribution Ranges in the USA.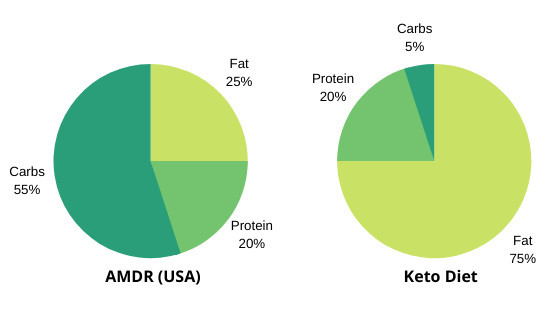 Rule of thumb: Fat is the main component of ketogenic nutrition and is therefore the most important prerequisite for successful ketogenic nutrition.
Always Read Ingredients
It is of utmost importance to always read the ingredients on packaging very carefully, as sugar additives are often concealed (more on this in the next section). This problem affects pretty much all industrially manufactured products, such as beverages & sausages. The latter also often contain nitrates, nitrites, and sodium glutamate.
Hidden Sugar in Food
"Sugar" does not always appear as sugar on food labels – Sugar is often "camouflaged" by manufacturers & declared under different names so that the product appears to contain little or no sugar. Be careful not to accidentally get yourself out of your ketosis.
If you are just beginning to eat ketogenic food or you don't always have all the alternative names for sugar in mind, remember these tips:
Designations ending with "-ose" or "-syrup" are usually sugar.
"Dextrose" and "maltodextrin" are also names for sugar.
The more often they appear in the list of ingredients, the more sugar the food contains.
Check out my post on natural sugar alternatives here.
Quality of Food
In a ketogenic diet, it is not only a matter of keeping the carbohydrate content below 50g per day & the precisely calculated macro nutrient values for protein & fat. In a ketogenic diet, the quality of the food is more important. Like Hippocrates already said, "Let thy food be thy medicine and thy medicine be thy food".
Wherever possible, certified organic vegetables should be used, as they are neither genetically modified nor contaminated with pesticides nor artificial fertilizers–they also open up a whole new, healthy taste experience for you! When buying fruit you should also pay attention to this – but it should be said that fruit plays a subordinate role in the keto diet anyway.
The same applies to meat:
Because meat is an essential main ingredient for ketogenic omnivores (from the Latin words "omni" meaning "everything" and "vorare" meaning "to devour"), you should definitely rely on certified organic meat. This certifies that the animals have not been fed growth hormones or antibiotics – all things you don't want in your food or in your body. Also, don't neglect animal welfare here: With organic meat you support a species-appropriate attitude of the animals. Here you can learn a bit more about what it means to be "certified organic".
Products of inferior quality influence your progress unfavorably and you will probably reach your goal slower.
Keto Diet Food List
The following is a quick ketogenic food list to help you get started in your new ketogenic life. Especially at the beginning it is difficult not to lose the overview and it's a good idea to take some time to deal with which ketogenic foods are suitable for you so that you are not overwhelmed when trying to figure out what to eat. For a detailed PDF version, click here.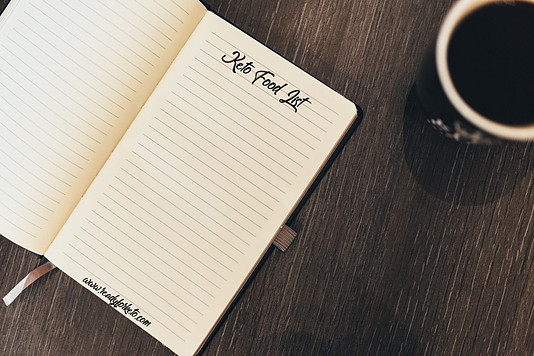 The following ketogenic food list is not complete, but considers the most "conventional" products that basically everyone knows and that end up in our shopping cart the most.
Meat
beef
pork
poultry
game
sausages, such as ham, salami, bacon, smoked sausage (Only without additives & of high quality!)
seafood, like mussels, squid, shrimps & fatty fish like salmon, mackerel, herring, tuna, etc.
eggs, bio and free-range
Milk Products
cream (full fat), such as sour cream (Only without additives & of high quality!)
fatty cheeses like Gouda, Mozzarella, sheep cheese, Brie, Camembert, Gorgonzola, cottage cheese, mascarpone etc.
natural yogurt and quark in moderation (full fat)
Click here for more info about milk products on the keto diet.
Vegetables
cabbage vegetables such as cauliflower, cabbage, pointed cabbage, Chinese cabbage, kale etc.
celery
green beans
turnips
algae like Nori, Kombu, and Wakame
sprouts such as brussels sprouts, alfalfa, broccoli, radish sprouts)
spinach & other green leafy vegetables
chives
cucumbers
asparagus, green and white
mushrooms and oyster mushrooms
fennel
chard
okra
rhubarb
zucchini
sugar snap peas
parsnips
morels
Fruit
avocado
blackberries
raspberries
blueberries
strawberries
currants
gooseberries
cranberries
papaya
sea buckthorn
lemons
Click here for more info about fruits on the keto diet.
Nuts and Seeds
almonds
Chia seeds
sesame seed
pistachios'
macadamia nuts
pecans
poppy
pumpkin seeds
Brazil nuts
walnuts
linseed
hazelnuts
coconuts
Click here for more info about nuts on the keto diet.
Fats and Oils
For frying: Coconut oil or Biopalm oil
For salads: extra virgin olive oil, MCT oil
avocado oil
macadamia oil
Ghee (clarified butter, lactose-free & suitable for lactose intolerant people)
butter
lard
beef tallow
goose fat
Keto Baking Ingredients
guar gum
locust bean gum
coconut flour
almond flour
hemp flour
sesame flour
linseed flour
potato and bamboo fibers
Agar Agar
Keto Sweeteners
erythritol
xylitol
stevia
honey – in moderation
dark chocolate with a cocoa content of approx. 70-80%
Beverages
water
coffee
unsweetened tea (green tea, black tea, herbal tea, etc.)
alcohol

high percentage such as vodka, tequila, whiskey, rum, gin, etc. with 0 carbs.
others (150 ml):

champagne – 1g carbs
dry wine – 2g carbs
sparkling wine – 3g carbs

pay attention to the ingredients in cocktails and mixed drinks!
Click here for more info about drinks on the keto diet.
Foods to Avoid
sugar, and products containing large amounts of sugar
juices, sodas, and other sugary drinks
bread, noodles, cereals, starchy foods, such as potatoes
kernel oils, such as rapeseed oil, thistle oil, or sunflower oil.
Conclusion
In this post we discussed macro nutrients for the keto diet, and which foods are ideal to eat on the keto diet, and which are better left out.
Remember:
Carbs: <5% (Less than 50g a day!)
Proteins: 20-30%
Fats: 70-80%
No sugar
Always check the nutrition label!
Would you like a detailed keto diet food list as a PDF? Click here to learn more.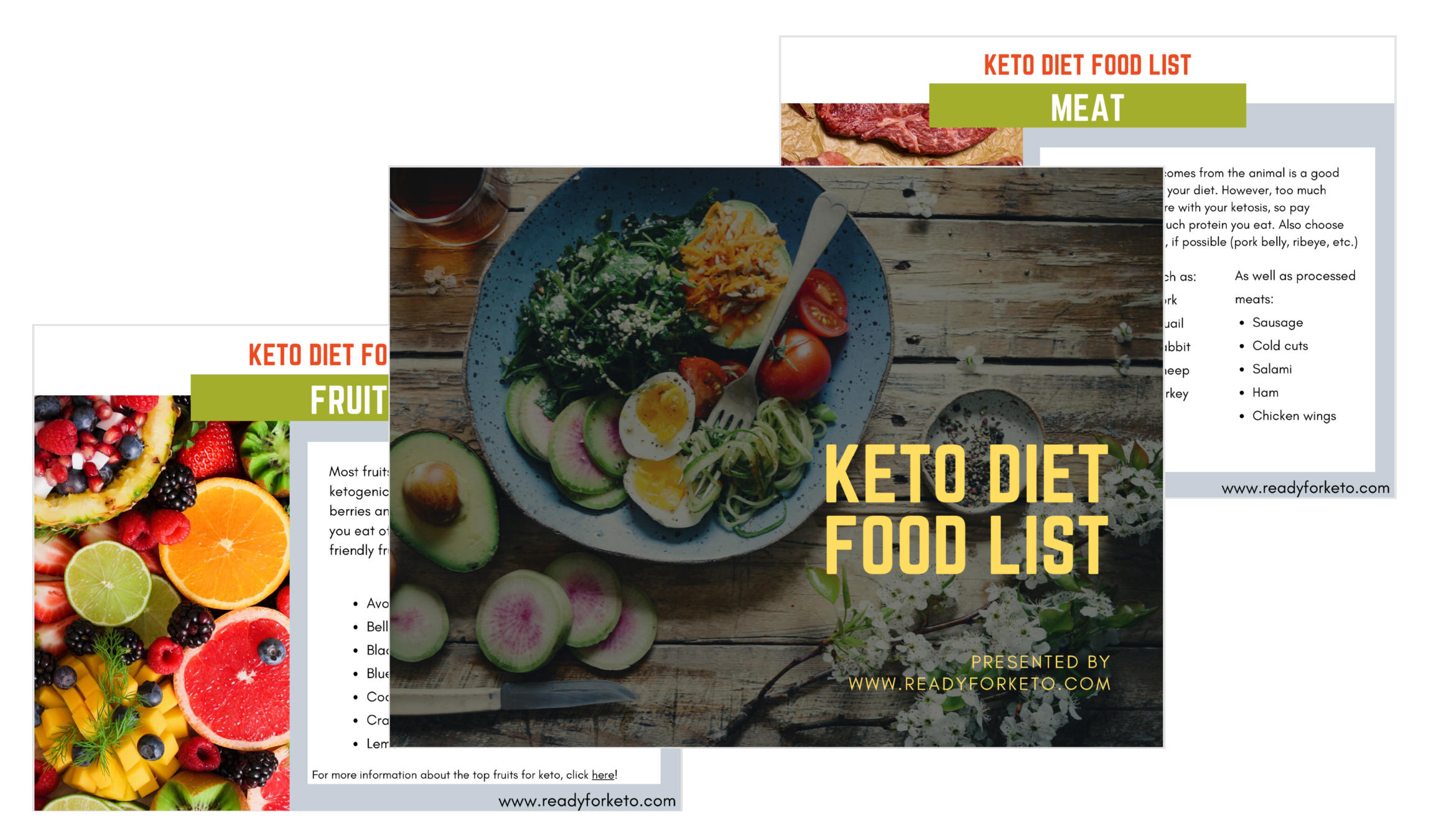 Get Your Keto Diet Food List PDF Here
So, what are your favorite keto-friendly foods? Comment below!
Thanks,
Anna
www.readyforketo.com